"Play Ball," First track available immediately on album pre-orders
AC/DC invite fans to appear in new music video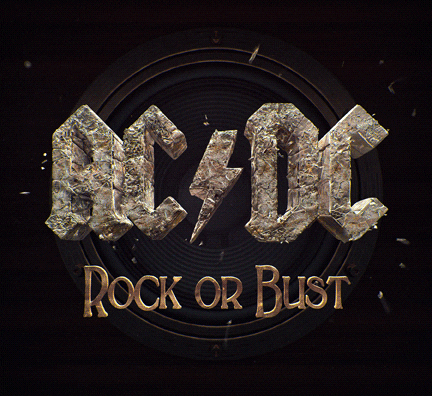 New AC/DC Album "Rock or Bust" available for pre order now
AC/DC's recently announced album 'Rock or Bust' is available today for pre-order via ACDC.com and all digital retail outlets.  "Play Ball" is the first track offered as instant gratification to those who pre-order 'Rock or Bust' ahead of its official December 2nd release.  You will be able to hear the new single "Play Ball" in it's entirety this Friday on my radio show "Rock into the Weekend" on HCR104fm just go to http://www.hcrfm.co.uk at 10pm to hear the new track during the show.
AC/DC are also giving fans a sneak peek today at the full track listing (see below) and cover art for "Rock or Bust." The album features a non-traditional and inventive three-dimensional lenticular cover, which gives the illusion of the band's iconic logo exploding as the packaging is moved in different directions.  This unique 3-D cover art can be seen by clicking on the image at the top of this post and will be available in both the CD and vinyl versions of the album.
"Rock or Bust" was recorded in Spring 2014 in Vancouver with producer Brendan O'Brien and mixed by Mike Fraser.  It is the band's first album of new material in six years, following their immensely successful "Black Ice," which entered charts at #1 in 31 countries and has sold nearly 8 million copies worldwide.
AC/DC invite fans to appear in video shoot
AC/DC also gave fans a special treat last week by inviting 500 lucky fans to be extras in a new music video for one of the tracks from the album. I was lucky enough to be one of those 500 invited down to London to appear in the video on Saturday 4th October. It was a very secretive affair as I was only told to meet at a Bus Stop outside of Victoria Train Station in London at 12pm and nothing more.
When I arrived, I was given a plastic bag to seal my phone in for the duration of the shoot and asked to complete a confidentiality agreement promising not to release any details about the video. As a result, I can't tell you very much but here is a picture of the set which the band posted on their Facebook page.
It only took 5 takes to get all the band and crowd shots that they needed and we are told that everyone who attended will be seen in the video so expect to see my mug rocking out within 20 feet of one of the greatest bands of all time.
It was incredibly exciting to be involved and I felt like a 10 year old child on their first trip to a theme park but the day did have a sombre undertone due to the absence of original member and band leader Malcolm Young due to his recently announced health problems. His family confirmed last week that Malcolm was leaving the band as he now needed 24 hour care due to him suffering from dementia. A few words were said about Malcolm and the band did announce that they decided to continue recording without him because it was his express wish that they did so.
Malcolm has been replaced in the band by his and Angus Young's nephew Stevie Young and there was certainly no hiding the family connection as he looked just like his more famous uncles. One of the greatest moments of the day was when we were first filtered onto the set and as soon as the band arrived and said hello the whole crowd started to chant Stevie's name giving him an extremely warm welcome. Stevie looked to be enjoying every minute of being a part of the band and slotted into place quite nicely. Our thoughts and heart of with Malcolm and it is devastating news but it looks like he has left the band in good hands with his nephew.
I have no idea when the video will be released as it was one of two that were filmed last weekend but as soon as I know, I will be sure to post something about it. In the meantime, feast your eyes on the tracklisting for "Rock or Bust" below, take a trip to AC/DC.com to pre-order a copy and tune in to my show at 10pm this Friday to hear the new single "Play Ball".
"Rock or Bust" Track list is as follows:
Rock or Bust
Play Ball
Rock The Blues Away
Miss Adventure
Dogs of War
Got Some Rock & Roll Thunder
Hard Times
Baptism By Fire
Rock the House
Sweet Candy
Emission Control
Turn on, Tune in, Rock out!